I actually came to itch io looking for anti-CCP games and I guess this is at least close to being one. But in any case, I enjoyed it. I seriously need to stop thinking of visual novels as boring to play.
I mistook Liu as a male at first! She had short hair and thick eyebrows...
Although the game is not meant for children, if the player is an adult, then...IMO chances are...he would actually know the persecution of Falun Gong in China. I'm an adult player though I played this game because, as I mentioned, wanted to play anti-CCP games. Human rights issues like this are one reason I hate the CCP.
I faced a bug and am not sure whether it's because of the renpy engine. But the options menu (or something else such as previous dialogue lines) may still be visible when you're out. But at least it resolved itself when the scene fades to black temporarily.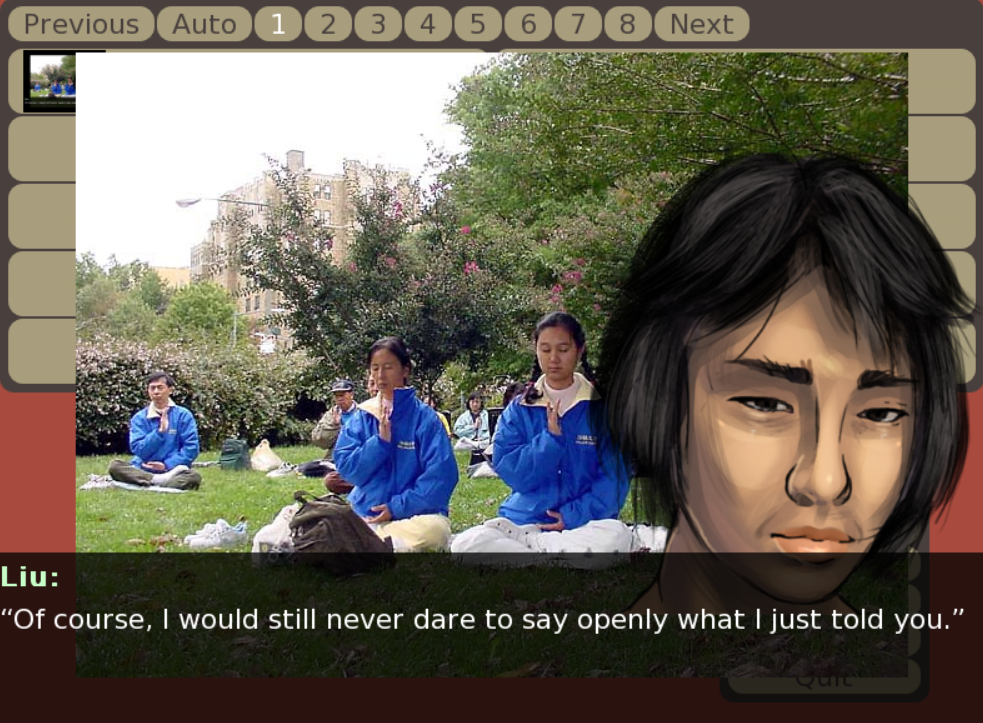 I also made an anti-CCP game and it's way way way more extreme your game (go to my page and see for yourself what it is...absolutely no blood or gore though, but you'll see what I mean). But of course I don't promote violence, in real life, that is. Especially when not provoked.

Btw guys, make sure you read the README for the controls before you play the game. To play it, you need to run the application file called "choice".
--- SPOILER ALERT IN THIS PART OF THE REVIEW!!! - - -
The choices and actions of the Falungong practioners leading to the good ending were creative, I must say! I honestly wonder if it would be possible for the Hong Kong protesters to do the same back in 2019, holding each other tight in order to resist arrest. If the police shoot them, it'd look like bad publicity for them. What do you think?
--- END SPOILER - - -
Edit: I'm going to follow you.